Eye Clinic: (715)723-9375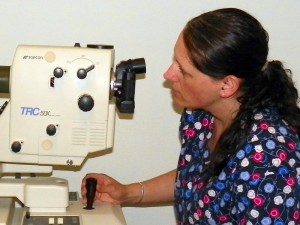 The assistant staff at the Eye Clinic cares about our patients. First and foremost in that caring is making sure the people feel comforted and welcome. But comfort for patients should also mean competence of those assisting the eye MDs. The competence of our staff in the field of ophthalmology is the result of education and experience. Some members of our staff have been working in our office for over twenty years. Others have been with us for a shorter time, but bring with them knowledge of newer techniques and equipment which helps all of the office stay at the forefront of ophthalmology practice.
Our friendly front office and our office manager will efficiently collect all your information and help file your insurance. They will answer questions you have concerning the sometimes confusing world of insurances.
Our knowledgeable opticians are qualified to fit and dispense your glasses.  They are also willing to share their personal experience and background in helping you choose lenses and frames suited to your own exclusive needs.